Case Study
Remote Monitoring: Spill Prevention in Action [Incident Report]
Incident Report: While monitoring a client's facility, SitePro's Operational Support (SOS) observed what appeared to be a spill to containment.
What is the cost of a spill at one of your facilities?
What is the cost of a spill at one of your facilities without personnel on site?
Ensuring your facilities have adequate containment, automated controls and alarms are all aspects of a modern, digital oil and gas operation. The human element of spill prevention is often overlooked, however. But having personnel on site 24 hours a day isn't always practical.
So, how do you ensure you have coverage when an incident occurs? You have to go beyond automation and advanced control systems and implement remote monitoring.
Why Remote Monitoring?
While automated control systems are an important part of a solid remote monitoring infrastructure, having experienced technicians with an eye on your operations makes the difference between proactive and reactive spill prevention.
Tank levels, pipeline pressure and other alarms offer clear indicators of an incident, but there are other less obvious indicators that a situation is outside its normal operating parameters. Identifying potentially hazardous situations, and making sure everything passes the "smell test" are skills honed by field technicians over years of on-the-job experience. While technology in the oilfield is getting better, this is still a business requiring subject matter experts to use their knowledge and experience when a system is operating out of spec.
Utilizing the best camera technology available, SitePro is able to have experienced field technicians and operators visually monitor and inspect our clients' facilities around the clock. In the event of a spill or other potentially hazardous incident, we are able to alert our clients while simultaneously sending our experienced field technicians to respond to the incident.
It was while delivering this service to one of our clients that we recently identified a spill and prevented a major incident from occurring.
Saltwater Disposal (SWD) Tank Overflow Incident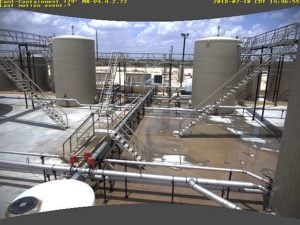 At approximately 12:45 p.m. on July 10, 2018, the SitePro Remote Operations Center team noticed a growing leak at an SWD facility they were monitoring.
The SOS personnel on duty contacted the client's pumper to report the incident and offer technical field support.
While investigating the leak, the pumper determined that a butterfly valve on the desander tank had failed and was the source of the leak. While this leak was a minor incident, in the absence of SitePro's SOS remote monitoring service, the leak could have continued until the client's next scheduled round of the facility, which could have been several hours.
The Value of Remote Monitoring
The technology available to remotely monitor, control and automate operations at SWD and other facilities is better than it has ever been. But the use of technology to automate remote facilities has lulled some operators into a false sense of security. The ability to keep trained eyes on your operations is not just for peace of mind, in the event of a spill or other incident, remote monitoring can potentially save your operations thousands of dollars in repairs, clean up and downtime.
While SitePro is a big proponent of innovation and pushing the boundaries of what the digital oilfield can do, we also understand how important the watchful eyes of experienced personnel are. It is this belief that backs up the men and women working in our 24 hour SOS monitoring facility, where we keep an eye on our clients' operations when they can't.
For more information about remote tank monitoring and SitePro's SOS services, contact our team at sales@sitepro.com.