Case Study
Case Study: Buchanan Disposal Solutions secures peace of mind with SiteWatch
Buchanan Disposal Solutions uses the SiteWatch security system to keep its people and assets safe.
Buchanan Disposal Solutions began using SiteWatch as its security system in the summer of 2020.
CEO Kris Koller said the company already had security cameras, but it was a "fly-by-night" system and Buchanan began to have some struggles with it.
"They did not like that their facility didn't have eyes on it 24/7 and they have a massive landfill," said Customer Success Manager Lori Batchelor.
Buchanan operates 24/7, 365 days a year, so Koller said he wanted to make sure operations personnel and administrators could have eyes on the facility at any time, even when they weren't at the site.
"So we talked to SitePro about moving the whole system," he said.
Remote Visibility
Buchanan now has 14 cameras on the SiteWatch system which allows employees to view footage at any time. SiteWatch provides the option of a live feed, time-lapse, or motion capture. And the data is saved and can be retrieved at any time. Koller said one of his favorite aspects of the SiteWatch security system is that he can check the cameras remotely from his phone or laptop.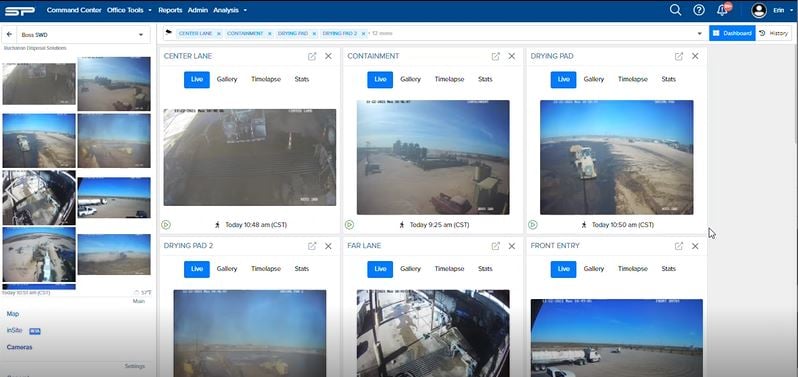 "Having that ability to remotely watch the facility and put eyes on the facility really helps management keep abreast of what's going on at the facility," he said.
"They can sit at the office or they can sit at their house and they can actually see what's going on at their facility," Batchelor said.
Independent Security System
Another thing that appealed to Koller was that the company would not have to switch automation companies in order to use SiteWatch. Buchanan currently uses SitePro Central's system.
"The key to that is you can have SiteWatch cameras and use a totally different automation system. So what that does is it doesn't require our customers to change their whole automation system just to get the camera feature or the SiteWatch feature," Batchelor said.
Safety Is Crucial
Koller said SiteWatch has also been a huge help from a safety standpoint. Buchanan's management team is able to check cameras to make sure everyone on site is following safety procedures. Security cameras in general have also proven to be a deterrent of crime.
According to a study done by the University of North Carolina Department of Criminal Justice, visible outdoor cameras deterred 50 percent of burglars. In a study done by Home Office, cameras were placed across public areas in London and reduced crime by nearly 30 percent.
"Safety is a very big focus for us so being able to have management's eyes on the facility whether it's at nights or weekends is very helpful," he said.
Watch the video above to learn more about Buchanan's story with SiteWatch. Contact us today to find out how SiteWatch can help your business operate more efficiently and safely.