Security + Surveillance
Keep Your Business Secure as Crime Spikes During Holiday Season
What the research says about crime spikes around the holidays, and why security cameras are one of the best ways to for businesses to prevent it.
The holiday season is one of the busiest times for both businesses and customers alike. Unfortunately, it also seems to be a busy season for criminals too.
According to the National Crime Victimization Survey, two crimes in particular see at least a 20 percent increase during the holiday season every year: robbery and larceny. The National Equipment Register also reports an increase in heavy equipment theft starting around Thanksgiving, and seeing another increase from Dec. 23-Jan. 2, when thieves capitalize on the Christmas and New Year's holidays.
The spike in these crimes often encourages businesses to seek an extra layer of protection for both their property and employees.
So how do you protect your assets?
General Safety Tips
Some of these may seem obvious, but there are a few simple changes your company can make to take an extra step of precaution during the holiday season.
Don't hide spare keys at the job site. From mom-and-pop shops to mid-sized businesses, you wouldn't believe how common of a practice this is.
Ensure all of your doors and windows are secure and locked.
Lock up valuable products, documents, and equipment.
Install a video surveillance system.
Benefits of Installing Security Cameras in Your Office
1. It's a crime deterrent
Research shows video cameras can prevent crime and deter malicious activity. According to a study published on the U.S. Department of Justice's website, CCTV (closed-circuit television) surveillance is generally successful in reducing and preventing crimes. Furthermore, a study by the University of North Carolina at Charlotte found that half of all surveyed burglars would flee the scene if they noticed security cameras. 60 percent of them said they wouldn't even attempt to rob a business if they had prior knowledge of the video system. In an article written by the New York Times, a city in New Jersey saw a 50 percent drop in all crime types after installing security cameras.
In addition, security cameras can protect against internal crime. While many of us hope we can trust our employees and co-workers, internal theft can be devastating, especially for smaller businesses. According to a report from CNBC, crime in the workplace costs US businesses $50 billion a year. Keep an eye on your assets and expensive equipment with a security camera.
2. Objective proof
In the unfortunate case that a crime does occur at your business, surveillance cameras can provide critical evidence to a case. Rather than using unreliable eye-witness testimony, objective proof like video footage is more likely to bolster a claim in court. For this reason, some businesses may consider security cameras a necessity, even if they have staff on site 24/7.
3. Peace of mind
One of the most obvious benefits of installing a video surveillance system is the peace of mind that comes with it. You are taking steps to ensure the safety of your employees and facility. The cameras can also bring employees an increased sense of security thus reducing stress and increasing efficiency.
Managers can rely on cameras to ensure their employees are also following safety protocols. Cameras can eliminate some HR headaches in safety cases, and can also reassure management that no harassment, altercations, or slacking off are taking place.
4. You're there even when you're not
Most people want to spend time at home with their loved ones during the holidays. Many surveillance systems have remote monitoring capabilities, giving you the opportunity to keep an eye on your site even when you're not there.
5. Affordability
The uptick in crime over the holiday season may cause business owners may consider security guards to monitor their resources when no one is on site or at the office. However, financial restraints may prevent on-site guards from being an option for many businesses.
The cost flexibility and scalability of most cameras and security systems can make them a viable option for most businesses. Growing? Add some cameras. Don't want to pay for extra data? Remove storage from your package. The vast number of options for surveillance systems make them an affordable, effective option.
Protect your business with SiteWatch
If protecting your team, facilities, and equipment is a priority for you, having cameras installed is probably on your to-do list. Our surveillance system, SiteWatch, helps you keep an eye on your facilities from anywhere, with a platform that's secure from cyber threats as well.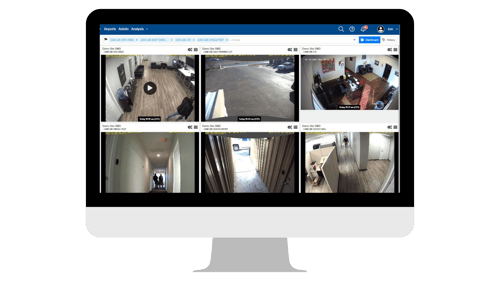 SiteWatch gives you complete remote visibility in real-time. You can watch what's going on at your businesses from your phone or computer from the comfort of your own home. Furthermore, the live feed can be synced to alerts, so you can be notified if anything unusual occurs.
Obtain peace of mind over the holiday season- and the rest of the year- by installing a secure camera system like SiteWatch.